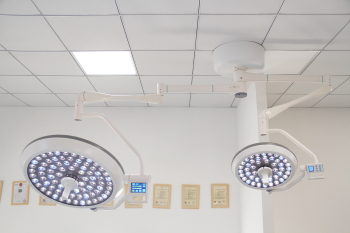 Surgical lights are specially designed lamps that offer brilliant reduced-shadow light for surgery procedures. These lights come in a variety of configurations, from large, ceiling-mounted operating room lights to small, portable exam lights.
Halogen lighting has a continuous spectrum similar to that of the sunlight, color temperature close to nature sunlight in the early morning, no flicker, friendly for our eyes. But the service life is short and temperature rise in the surgery filed is a bit higher. For examples, the service life of WYK reflector lights is only 1000 hours; and the service life of WYZ halogen lights is around 3000 hours.
So they have long been staple in the operating room lighting. In recent years, they have been gradually replaced by LED lights.
Thanks to white cool light, high intensity, energy efficient and long service life, LED surgical light has been got more and more popular in worldwide. Nowadays, we have many different choices for the LED surgical light. They are in beautiful design, light weight and thin lamp head and more new functions are adopted: color temperature selection, touch screen control panel, spot light regulated electric, endoscopy model, etc,which make them are the top choice of the modern operation theater.